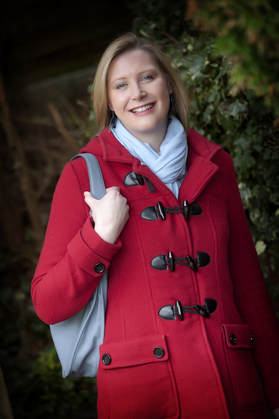 A statement coat is a must for all of us, it can make or break any outfit and more importantly it can disguise what's lurking underneath! I can't tell you the amount of times I've rocked up to the school gates with a pyjama top hiding under the coat shown above, and no one would ever know (apart from me publically shaming myself in this blog of course)!
A statement coat does exactly what it says on the tin, it makes a statement whilst providing a positive, long lasting first impression. The first consideration for your statement coat is colour,  a darker colour from your neutrals or fashion colours in your palette is the perfect choice for your winter coat but try and think outside the box and move away from the predictable black or navy and replace this with red, teal, plum, burgundy or charcoal (depending of course on which colours feature in your palette).
Spring/Summer is the perfect time to inject a little VA VA VOOM in to your jackets and lightweight summer coats or macs, instead of neutral colours from your palette, consider one of your fashion colours to add a bit of vibrancy and flair. Think coral, aqua, mint or icy blue to give you an instant burst of energy and an immediate confidence boost.
The second consideration is style and this is where body shape needs to be factored in to your decision. A single breasted dress coat will suit any body shape so acts as a great universal item that will work in any wardrobe. For those of you who have been blessed with a curvy figure then why not consider a shaped coat to show off your nipped in little waist. A deconstructed coat works well on a fuller figure, hanging from the shoulders and skimming any challenges. Belted jackets are not so flattering on anyone with a tummy so if this is your most challenging area then avoid the belted coat or simply consider fastening the belt behind your back.
For something a little more casual, a safari jacket can be a winning combination for anyone who has a waist.  A flattering look for those of us who haven't been blessed with a waist is to "fake it" with jackets or coats that naturally nip in at the waist with shaping or seams (see the piping in the picture above, that lulls you in to thinking that I have shape when I don't)!
If choosing a jacket, consider whether it needs to be fastened, if not as long as it has shaping then try in a smaller size and wear it open. This look can be extremely flattering for ladies who, like me have a bigger top half than bottom.
Epaulettes and embellishments on military style jackets are a great way of creating balance for our triangles, whose hips are wider than their shoulders. Cropped jackets are a great way of breaking up a long body but be warned if you have a big bust as it will only make it appear bigger.
There really is a coat for every shape, size and taste so enjoy setting off on your journey to find your perfect coat and when you've found it consider buying it in more than just one colour!
If you're unsure of what body shape you are or would like to find out how to dress your body shape to enhance all the good bits and disguise the not so flattering challenges, then why not consider booking a style consultation here at Styled In Colour and we'll find solutions to all your clothing frustrations.