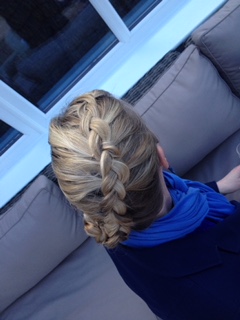 Clients will often ask me about their most flattering hairstyles so I thought this months blog should be dedicated to our hair and how we decide to style it. When considering a radical change for your hair there are a few considerations I always suggest before commiting to something new.
Do you have the name of a good hairdresser? One whose opinion you trust and someone who can cut your hair with good effect? If not, I suggest asking for a recommendation from someone you've seen whose hair you like. Even if it's a stranger, bite the bullet and ask. No-one is going to take offense at you saying that they've got great hair so what have you got to loose! Next, consider your lifestyle and style personality. It's no good opting for a high maintenance style if you've just had a baby and the likelihood of you brushing your locks is a reach before you even think about blow drying it! Style personality is crucial here too, as a classic myself, I would find it really difficult to cope with an asymmetrical style or one that forever looks dishevelled.
If you find it difficult articulating to your hairdresser the exact look that you want to go for then why not take some time before your appointment to collect some pictures of the types of colours and styles that you want to emulate. That way, there can be no miscommunication about what you want in terms of layering, feathering, low lights, highlights etc.
At Styled In Colour we concentrate on 5 fundamental face shapes, and each one brings with it a consideration for which styles will suit you best. Your hairdresser will be able to guide you on this in more detail but here's an overview to assist with your initial research.
The Oval face is balanced, the forehead is slightly narrower than the cheek bones and it slopes inwards from the cheekbones to the chin. Most hairstyles will suit an oval face shape but additional considerations need to be made in relation to neckline and age and what the hair can easily do.
The Square face has a wide forehead and the cheekbones and jaw are all in line. The jaw is angular in appearance. Hairstyles for the square face are all about softening the angles and giving the appearance of width at the cheekbones. Width and volume to the upper part of the face work well. Curls and layering are great for softening angles. Avoid straight bobs and heavy straight fringes.
The Rectangle face is long and narrow with a square shaped chin. Hairstyles need to give the illusion of widening and shortening the face whilst softening the jawline. Any layered style works well. A fringe will always help. Add some fullness around the ears along with a softly layered crown. Avoid long straight styles with a centre parting.
The Inverted Triangles have a wider temple and forehead, narrowing down to a small chin. Hairstyles need to add volume and interest to the jawline. A one-length bob that finishes just below the ear lobe turned in or flicked out works well. Light and feathered fringes also work. Avoid short, cropped hairstyles that finish above the ears.
Finally we have our Round face shape, in which the cheeks are full and the edges of the face are rounded. The hairline across the forehead is often rounded too. Asymmetric partings and fringes work well. A light feathered style will break up the fullness of the face. Avoid big perms or rounded bobs.
It goes with out saying that the colour choices you make for your hair have a significant effect on what outfit colours harmonise best with it. If you are at all unsure then why not book in for a complimentary colour session in which we can work out your colour dominant before recommending what make-up colours will harmonise with you the best.