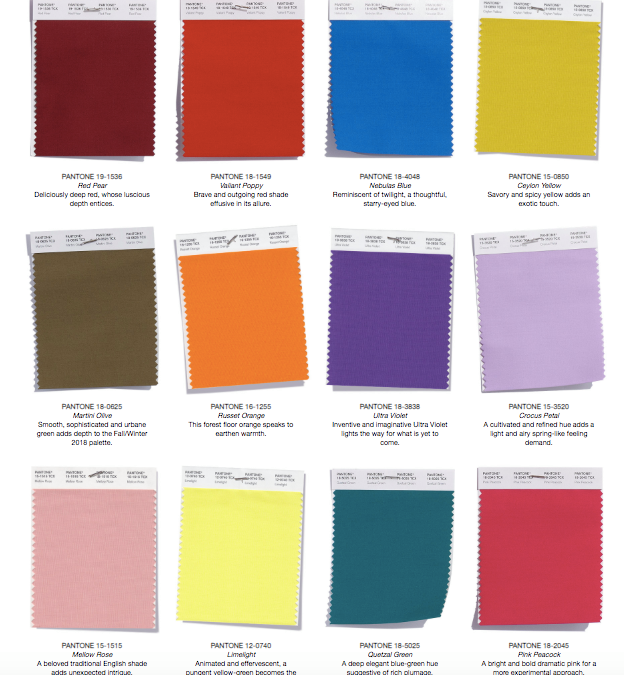 Arriving in October, I wanted this months blog to reflect the abundance of colours available on the high street and how to introduce them in to your wardrobes. Following on from London fashion week and the A/W 2018 catwalks, these were the colours of the moment as identified by Pantone.
Green is everywhere this season and rest assured there is a green for everyone that will harmonise with your skin tone, hair colour and eye colour. If you're unsure why not make it your mission to step out of your comfort zone and discover the perfect shade for you.
Burgundies and purples return every autumn, but this year reds and pinks are staying too. A great way of adding a splash of colour to the neutrals that feature in your palette.
For lights like myself, autumn/winter can be tough seasons to navigate whilst not "being worn" by some of the more dominant shades that are available. Try and keep the colour of your tops within the neutral and lighter shades of your palette. Prince of Wales fabric is elegant without being too overbearing.
For all the deeps, brown is the new black! From black/brown to chocolate to coffee and mahogany, embrace all these intense colours that will make you look co-ordinated and on trend. Don't be afraid to wear dark colours from your palette together to make a truly show stopping entrance.
For all the warms out there, if ever there has been a season for you, it is now. Embrace all the wonderful display of chocolates, oranges, ochres and mustards. If choosing a navy or charcoal grey as a neutral then team them up with one of your warmer hues for full effect.
For all the lovely cools, I can assure you that your colours are out there too, from animal prints in greys and blues to checks in purples and damsons, via pinks and silver. Big chunky necklaces are in this season too, so aim for a silver, pewter or gun metal backdrop to set any outfit a blaze. Be warned though, if you're going for a chunky necklace then don't over do it on the earrings, unless you're as tall as me that is!
The clears can enjoy the vibrancy that a new season brings. Team up your black/browns with greens to really make an entrance. This is the time to wear colours at their most striking, the more contrast and boldness the better.
Finally for all our softs, as brown is the new black then favour the paler versions from your palette in taupe's and coffees. Team your neutrals with blues and pinks this season to get the most amount of variety within your palette. When masterminding your outfits, keep to a similar shade from head to toe and you will look instantly put together and effortlessly stylish.
Of course if you're unsure what your perfect shades are, then with Christmas approaching why not consider a gift that will keep on giving and treat yourself to a colour session here at Styled In Colour.