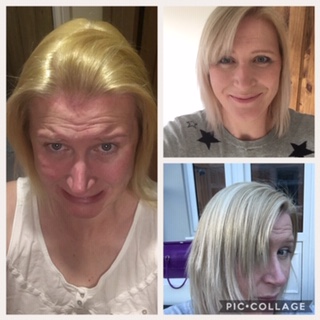 Being a naturally flat dark blonde, my hair when left to it's own devices is a little non descript and dare I say "mousey". Having not coloured my hair up until the age of 21 I started to experiment with the usual quick fixes, namely "sun in", lemon juice and other lightening agents that were readily available on the high-street in an attempt to brighten and lighten my locks and give me a bit of a boost. It wasn't until much later that I started down the highlighting route and I feel as if I've been on this merry-go-round ever since!
I put a stop to this earlier this year and experimented with my natural colour, thinking A. I would save heaps of money (as with naturally fast growing hair it couldn't take that long to grow out hey)? and B. With 40 fast approaching I had multiple "platinum" shades coming through which I naively presumed would do the work of a highlighter and "lift" my mousey base. Fast forward 7 months and I was feeling more than a little drab as my natural colour zapped my every life force and just made me feel a little plain.
On a whim I bought a home hair dying kit, thinking I'm missing a trick here, surely it can't be that difficult can it? I was persuaded by the lull of saving money and time spent at the hairdressers on a 3 hour appointment every 8 weeks. The result as you can see in the main picture was horrifying, I looked like a yellow parrot and as many of you will already know, warm undertones do not harmonise with my natural skin tone. Helped massively by the wine that I had consumed that evening, it wasn't until the next morning in the cold light of day that I could really assess the damage that I had inflicted upon my hair. This is when the panic set in, but luckily for me I had a very sympathetic and accommodating hairdresser, Rachael Kennedy at Gronn eco-salon in Bury
Rachael was a total star from the minute I contacted her and squeezed me in to her jam packed Saturday schedule to commence restorative work on my yellow locks immediately. Not only did she calm my heightened anxiety which after 12 hours of looking like a sunflower was alarmingly high but within 45 minutes she had worked her magic and I was starting to look and feel like me again. This, as Rachael described was stage one, a temporary improvement with an all over toner to remove the brassy tones which was going to need additional work to create a long lasting colour that was going to harmonise with my skin tone and eye colour. Another 3 hours with Rachael the following week and the cost of a full head of highlights has taught me a very important life lesson as the owner of a blonde crop!
DO NOT ATTEMPT TO DYE BLONDE HAIR BY YOURSELF! Lesson learned, thank you Rachael Kennedy!