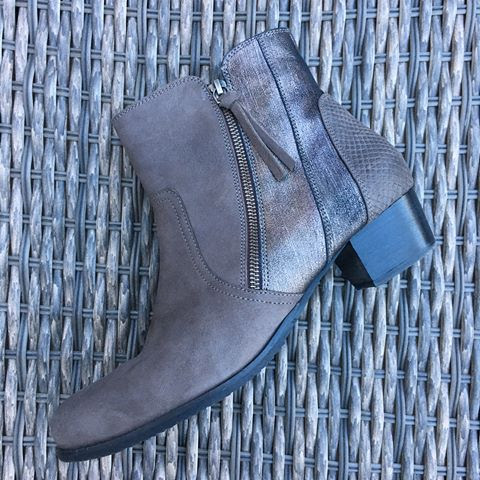 Being predominantly a Classic style personality, nothing makes me happier than having matching outfit staples that all effortlessly co-ordinate. This can include anything from jewellery sets to underwear to matching handbags and shoes. Over the years, shopping for shoes and boots has been born out of necessity rather than any real choice. Having a size 10 foot can limit what's available and create challenges when looking for something specific. This made my historical purchases rather predictable, black was a colour that I could source in shoes and boots so my wardrobe was filled with what I could get. I didn't really consider how limiting this was until I had my colours done back in my twenties and then it suddenly dawned on me that black is not the most versatile of wardrobes staples, especially, if like me most of your neutrals are navy's or taupe's.
It got me thinking about finding the most versatile colour for a winter boot that would co-ordinate with your entire wardrobe, thereby harnessing the concept of creating a capsule wardrobe with fewer items inside whilst providing more options of what to wear. My conclusion was to look for a pewter alternative in the form of a winter boot and handbag combo and the results have been fantastic. Pewter is such a fabulous neutral to have at your disposal. Not only is it a universal colour, meaning that it suits all 6 of our colour dominants, but it is also an extremely adaptable colour that will co-ordinate with any shade within your wardrobe.
So the next time you're investing in new footwear, ask yourself this simple question. How many items from my existing wardrobe will these new boots/shoes go with? If your estimating over 50% then they're definitely worth your investment as they will get plenty of airtime in the weeks and months ahead.
If you've enjoyed this months blog and would like to hear more from Styled In Colour then why not subscribe to my monthly newsletter featuring monthly tips relating to the wonderful world of colour, style and make-up, simply visit https://www.styledincolour.co.uk and hit the subscribe button.