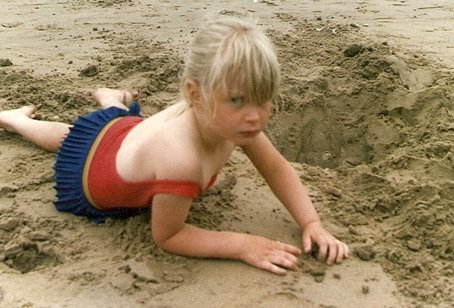 Swimwear, as you can see from my less than impressed face above is my least favourite of all outfits! Being a rectangle, I carry the most amount of weight around my tummy which is very difficult to disguise whilst wearing lycra based fabrics! In addition to this, my grand scale means that my body is much longer than average so getting swimwear with enough length in the body is another challenge altogether.
​When thinking about placing your body in lycra, you need to ask yourself a few basic questions.
​Where do I carry the most amount of weight?
Which areas of my body are my most challenging?
Which areas of my body are my best bits?
​Once you've taken the time to really contemplate all of the above whilst attempting to be as objective as possible, then you can start to devise a plan to hide or disguise the most challenging areas, whilst you work towards celebrating your best bits.
​Here are a few "fixes" for some common problems in the swimwear department.
Big Bust: Needs scaffolding. Think wide straps, under wiring and often separates to allow you to buy a bigger top than bottom. Darker colours from your palette and plainer designs on your top half can often have a minimising effect.
Small Bust: Think details, embellishments, bright colours and texture to add interest and bulk over smaller expanses. Patterns, ruffles, fringing and of course padding can all work to give the optical illusion of a bigger chest.
Big Tummy: Think tankini or swimsuits with side panels to elongate your silhouette.  Blouson tankini's work well to disguise any spare tyres as does ruching. Darker colours from your palette can work to minimise larger expanses.
Big Bottom: Draw attention to your neat little waist. Think details on your top half with a plain and darker bottom section to minimise where possible. Diagonal stripes can emphasize the waist as well as side cut outs. Swim dresses with a skirt can disguise a lager bottom and a sarong can work beautifully with your curves. Aim to lengthen your leg with a wedge sandal for around the pool.
​Full Thighs: Again, draw attention to your neat little waist from the advice above for the larger bum. Swim skirts can do wonders to disguise a larger thigh and sarongs are a great way of accessorising whilst disguising all at the same time. A wedge sandal for around the pool will give some length to your legs and will elongate your silhouette.
Broad Shoulders: Give the illusion of a narrower shoulder line by using halter necks or asymmetrical neck lines to break up the larger expanse across the shoulders.
​Long Body/Low – Waisted/Long Rise: Find swimwear that does longer length options in the body. M&S is a great place to start. Separates, such as tankini's can also work well, especially if the top has adjustable straps to allow for more length in the body.
As for those areas which you're proud of, there's a clear message………..
​Celebrate/Celebrate and then Celebrate some more!
​So if you've got a defined waist, then blooming well show it off in a bikini or swimsuit with cut outs. If you've got legs up to your arm pits then go for a high legged cut to emphasize this even more. If you've got a chest to die for, then draw attention to it using bright colours and patterns.
Swimwear is a state of mind, accept your body warts and all and then stand tall, stand proud and own your body shape for all it has to offer.
​Happy Swimming!