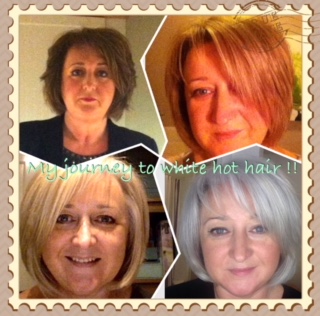 For this months blog, I'm enlisting the help of my good friend, Julie Butterworth (lovingly known as Mrs B) of SOS (Simply Organised Spaces) to take us on a journey of what going grey can do for you when you embrace it head on! Julie did not start life with white hot hair, she was actually more of a medium warm brunette with a warm skin tone to boot and enjoyed her 30's choosing clothing shades to compliment these two attributes such as oranges and lime greens. Fast forward a good few years and Julie was tired of the endless upkeep that having a medium brown crop meant and the multiple root touch ups that she had to endure. A good hairdresser (in Julie's case it was Shaunna at Evolve in Edenfield) worked through the transition process of dark to light or as Shaunna refers to it, "Colorado to Natural White", perfectly.
So lets begin on New Years Eve with the original picture, top left, Julie hated the way her hair was making her feel and didn't like the amount of make-up that she was needing to use in order to feel "human". It was at this moment that Julie took the brave step to stop dying her hair as part of her New Years resolution.
A good hairdresser will support you through each stage of the process and Shaunna did just that, agreeing to let the underneath layers grow out for 3 months (it's worth mentioning at this point that Julie has fast growing hair) whilst topping up colour on the top layers and roots. The second picture demonstrates 4 hours at the hairdressers of which non of the "grow out" hair was coloured. This was followed up every 4 weeks where Julie had a conditioning bleach strip for a few minutes at a time which kept removing colour but which kept the hair conditioned. The final result came just 9 months after Julie started the process and she maintains this look with regular stylish cuts and White Hot Hair products.
With the alteration in Julie's hair tone from that of a warm hue to that of a cool hue she realised that some of her most favourite shades in her wardrobe were no longer making her look and feel fantastic. Following a colour consultation and make-up prescription, Julie discovered her most flattering colours to match her shiny new locks.
So, is going grey something to be feared or avoided? If you ask me, Julie looks 10 years younger as a Silver Siren, so what are you waiting for?